Are you unsure about what the digital shift means for your internal communication and skills development? Are you looking for a solution that will have a long-term impact? Do you feel more confident with a structured work process, but at the same time you are keen to challenge your knowledge of learning and how e-learning can be used in your organisation?
---
What do you need?
A digital strategist specialised in communication and learning processes, a project manager or consultant to handle a procurement or tender requests?
A concept developer specialised in digital communication and e-learning development, or consultative support for the e-learning development within your own organisation?
To produce an e-elearning course or a bleneded learning solution or the resources to do so; project management, interaction desigign and/or graphic design.
References
---
Smarter Sustainability Training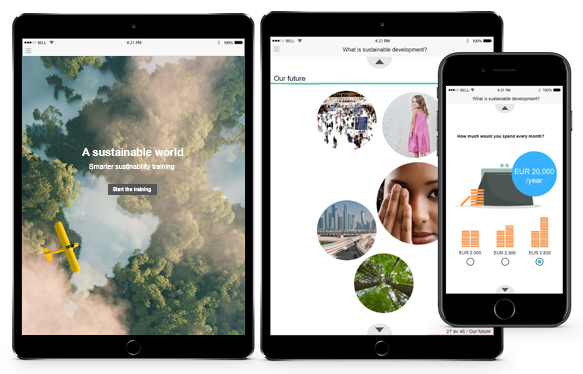 New version available now! This web-based course has been
designed in close cooperation with representatives from across the business
sector and resarchers from KTH in Stockholm. The content is developed according
to the UN Sustainable Development goals. There is also a solution to manage
different language versions in Learning Management Systems.